Freedom Ordnance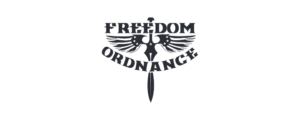 GOA is proud to partner with Freedom Ordnance to offer special discounts on our memberships.
Read what Freedom Ordnance has to say about GOA:
Freedom Ordnance partnered with the GOA because America needs a non concessional protector of the 2nd amendment.

Where other 2nd amendment groups have given away the rights of Americans one piece at a time, the GOA will not take one step backwards to concede or surrender the right that protects all other rights, our second amendment.
God Bless America And those who struggle to hold her together for the next generation.

Sincerely, Freedom Ordnance MFG, Inc.
Membership Levels:
Annual membership lasts one year ($20). A life membership lasts a lifetime ($900). A patriot membership is a commitment to provide GOA with ongoing financial support (beginning at $25/month).