Freedom Ordnance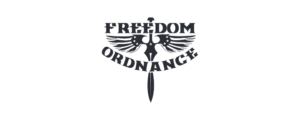 GOA is proud to partner with Freedom Ordnance to offer special discounts on our memberships.
Read what Freedom Ordnance has to say about GOA:
Freedom Ordnance partnered with the GOA because America needs a non concessional protector of the 2nd amendment.

Where other 2nd amendment groups have given away the rights of Americans one piece at a time, the GOA will not take one step backwards to concede or surrender the right that protects all other rights, our second amendment.
God Bless America And those who struggle to hold her together for the next generation.

Sincerely, Freedom Ordnance MFG, Inc.
I want to become an Annual Member for only $20

Freedom Ordnance

Annual Membership

GOA is pleased to partner with our friends at Freedom Ordnance for a special 20 percent discount off the normal membership price of $25. Join now for one year for only $20!
I want to become a Patriot Member

Patriot Member

Thank you for becoming a Patriot level partner. Your support helps to ensure that GOA can continue to fight for your Second Amendment rights on Capitol Hill and in legislatures across the country. As a Patriot member, you will receive:

** A special custom membership card available only to Patriot members;
** Embroidered GOA baseball cap
** Automatic entry into all GOA gun giveaway sweepstakes;
** Special alerts and updates regarding your gun rights.

Simply fill out the form below, and thank you again for being a Patriot For the Second Amendment.

You will receive a confirmation email that contains a link to cancel the monthly payments at any time.
I want to become a Life Member for only $900

Freedom Ordnance – Life

Life Membership

GOA is pleased to partner with our friends at Freedom Ordnance for $100 off of $1,000 GOA Life Membership. Sign-up now to be a GOA Life Member for $900.